Made in canada
Eco-friendly, ultra comfy basics for the entire family.
HEART 2 HEART
The last few years have been incredibly hard. Mental health and well-being has become more and more of a struggle for so many.
The Heart 2 Heart collection, marked by a hand-painted heart on the chest of each item, came to be when I gave a sweatershirt my youngest brother said to him "when you need a hug and I'm not around, put this on and this is me hugging you from a distance".
A few months later my husband and I traveled to Annapolis, MD to visit long time family friends who had lost their dad, a man who was like an uncle to me, and I did the same thing. I gave them each a sweatshirt and said, "when you put this on this is me hugging you".
It was then I realized how, in a small way, it was possible to provide a sense of connection, even when not physcially present. It is the comfort when comfort is needed, the hug when no one is around, and the gentle reminder that you are not alone.
On a personal note, my mental health has been challenged after losing several people near and dear to my heart over the past 24 months. So I am dedicating this collection in loving memory of my grandmother Bette, grandma Margaret, my almost sister-in-law Lily, and our very dear friends George, Ryan, and Gwen.
With love Amy
xo
$10 will go a mental healt each Heart 2 Heart purchase.
SHOP THE LOOK
Falling For It
Jump into fall with the softest of yellows and rose tones. Our limited edition everyday joggers paired with any of our ultra soft bamboo tees is just the ticket. Layer up with your favourite denim jacket and white sneakers to complete this look!
Shop Now
CLASSIC JEANS & TEE
The simple pairing of a t-shirt with jeans is a classic look that is always fresh. Once you try one of our bamboo tees you'll never want to wear anything else. Our bamboo options are available in both v-neck and crew styles.
Shop Now
Business Chic
This incredibly comfortable work from home look features our navy women's Ultimate Crew Neck sweatshirt paired with a white button up blouse and our Hi-Rise Leggings. We like to think of it as business on the top, party on the bottom.
Shop Now
What people are saying about us
These clothes fit ALL sizes. When I put them on, I ACTUALLY felt good and comfortable in them. That's hard to come by at my size/measurements.

Richelle
Thank you for the perfect zip up sweatshirt! Lovely material!!

Joan
Love my items! The joggers have already become my work from home uniform. They are cozy and look great! What more could I ask for? Looking forward to placing my next order!

Kate
Just opened my package of goodies. Love the cut and feel! Already wearing 2/3 of the pieces!

Bekki
We opened our BETTER THREADS box yesterday for my husband's bday and we are in love!! The fabric feels incredible!!! So impressed!!! My set fits perfectly and I'm never taking it off!

Chantelle
I love my crew neck! The material is legit soft...like cashmere. The attention to detail and the packaging, I could tell someone really cared while folding and wrapping everything. I'm hooked!

Matt
I wore the sweater today...I swear this is the most comfortable sweater ever! And there is a smell to it like the mix of baby powder and the top of a new born baby's head! lol....Seriously awesome!!!

Jim
I have found my new uniform! Soooooo comfortable, and soft like you won't believe! Love it!!! Thank you for making excellent quality Canadian made clothes!

Tanya
Thank you for creating such an epic and comfortable set of sweats! They might just be the most comfortable sweats I have ever owned. They fit like a dream!

Joanne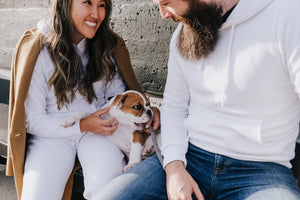 BETTER PROGRAM
Learn more about how we support our local communities, give back & hug our planet.
Learn more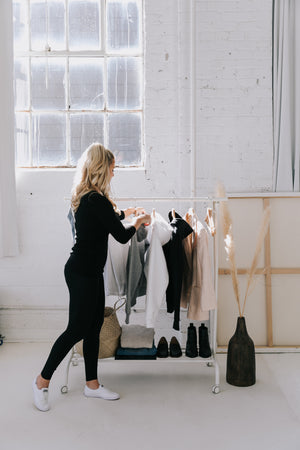 We can help
PERSONALIZED SHOPPING
We are excited to offer free personalized shopping to ensure that your purchase is the perfect purchase.
Whether it be a gift for you or someone else, we've got you covered.
LET'S CHAT